You can add contacts to your subscribers list by importing contacts from your MailChimp website as well as you can export your subscribers list to MailChimp website.
Please follow these steps below:
Log on to the Dashboard website.

Click on the Subscriber from the Navigation Panel.

Click on the

Contacts

, then from the drop-down menu choose

External Contacts (MailChimp,ConstantContact..)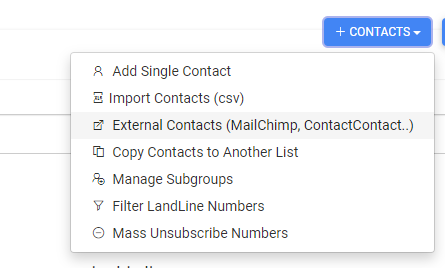 From the Contacts from External Sources page , choose Import & Export MailChimp Contacts

Click on Link MailChimp Account

Enter the username and password of MailChimp site.
After successful log on, a new page will be displayed, In the List Mapping Group, Click New List Mapping.

Select SMS campaign from the Dropdown list to/from which you want to import/export contact.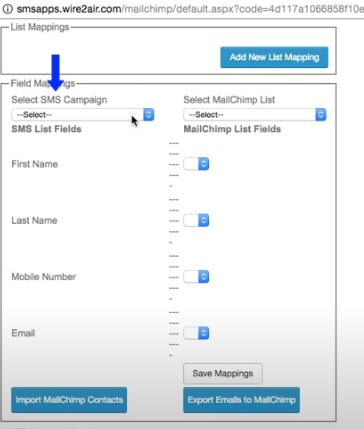 Select the List in MailChimp site to/from which you want to export/import contact.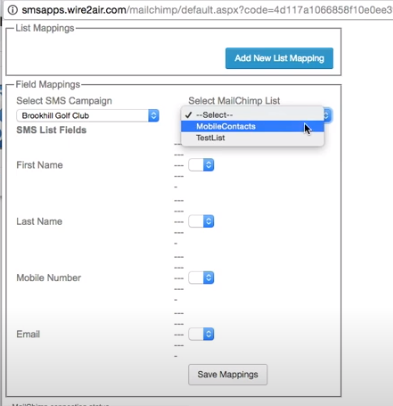 Map the fields from your campaign to MailChimp fields.
Click Save Mapping.
New Mapping will be displayed in the List Mapping Group.
Click on to the mapping link.
Click on to Import MailChimp contacts button to import contact from Mailchimp. All the list in MailChimp contact will be added to the subscriber list of your campaign.
You can also export contact from your campaign to the MailChimp selected list.
Also when subscriber Opt-in to your campaign by sending text, then the new subscriber contact list is automatically added to the MailChimp contact list.