When advertising your SMS Marketing keyword list, to consumers in-store, online, or through traditional advertising channels such as television, radio or even print. Here are few things you should include to make sure your customers are aware of the text marketing program, how to opt-out, how to get help and also the campaign in CTIA compliant.
Describe your program. Describe your text marketing program, let your customers know what are they signing up for and what to expect. For example, "Join our Mobile VIP text club".


Help. On your website, and marketing flyers provide your customers a way to get help via text message; include "Text HELP for more info" or you can include a website link.


The frequency of text messages. Let your customer know how many times per day/week/month your customers will be receiving text messages from you. For example, "Up to 8 msgs/month.


Provide clear opt-out instructions. Allow your customers to opt-out of the SMS marketing campaign, include "Text STOP to cancel"


Standard Messaging rate disclosure: Carriers require that you notify consumers of the cost of the service. Must include "Msg&data rates may apply" to any CTA (Call to Action) and opt-in text confirmation.


Privacy policy: Provide a link to SMS marketing company privacy policies.
Although Help and opt-out instructions are not required on the advertisement itself, they must appear in the terms and conditions. 
Terms and Conditions

Complete terms and conditions should include customer care contact information; complete opt-out instructions; a recurring message disclosure, a product description, and a program (brand) name. Some program types (e.g., sweepstakes) have additional requirements carrier by carrier.
PRIVACY POLICY

Marketers and Service providers are responsible for protecting the privacy of user information and must comply with applicable privacy law. Service providers should maintain a privacy policy for all programs and make it accessible from the initial call-to-action. When a privacy policy link is displayed, it should be labeled clearly. Use cases might require different disclosures in the full terms and conditions. In all cases, terms and conditions and privacy policy disclosures must provide up-to-date, accurate information about program details and functionality.
SINGLE-MESSAGE PROGRAM USE CASE QUICK REFERENCE GUIDE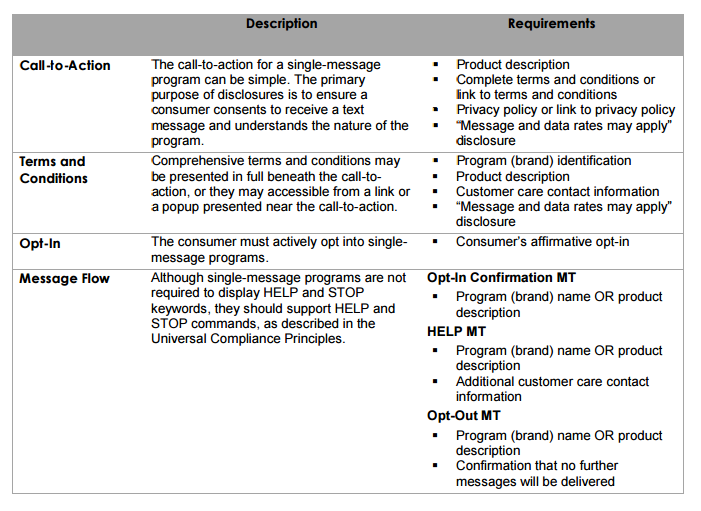 SAMPLE COMPLIANT SINGLE-MESSAGE PROGRAM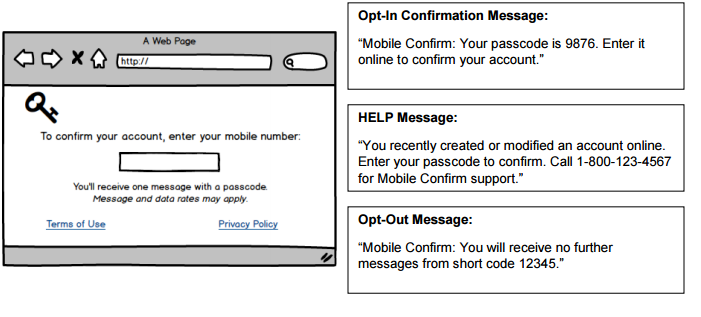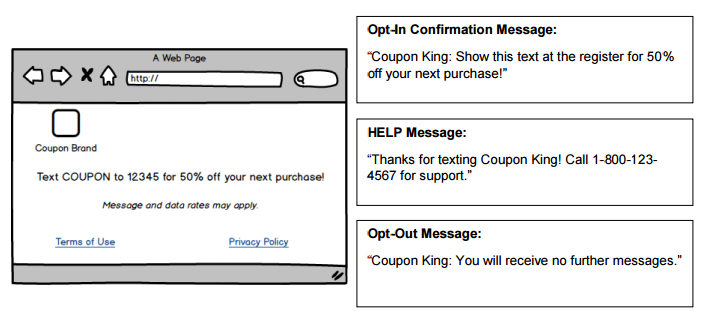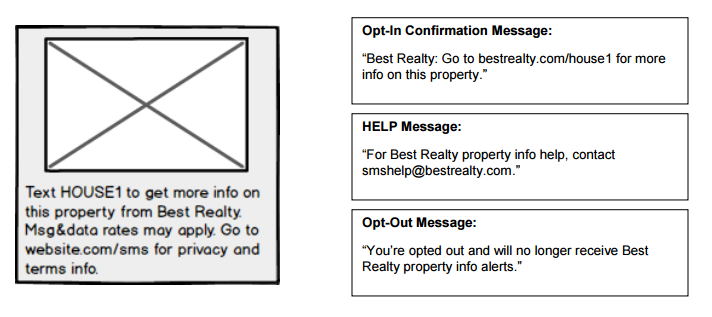 RECURRING-MESSAGES PROGRAMS
A user opts into a recurring-messages program by texting a keyword to the program's short code, entering his or her mobile phone number online or agreeing in apps or in person to receive text messages. Examples of recurring messages programs include but are not limited to the following:
Content or informational alert subscriptions (e.g., horoscopes, news, weather)

Flight status notifications (multiple messages)

Marketing and loyalty promotions. 
RECURRING-MESSAGES PROGRAM USE CASE QUICK REFERENCE GUIDE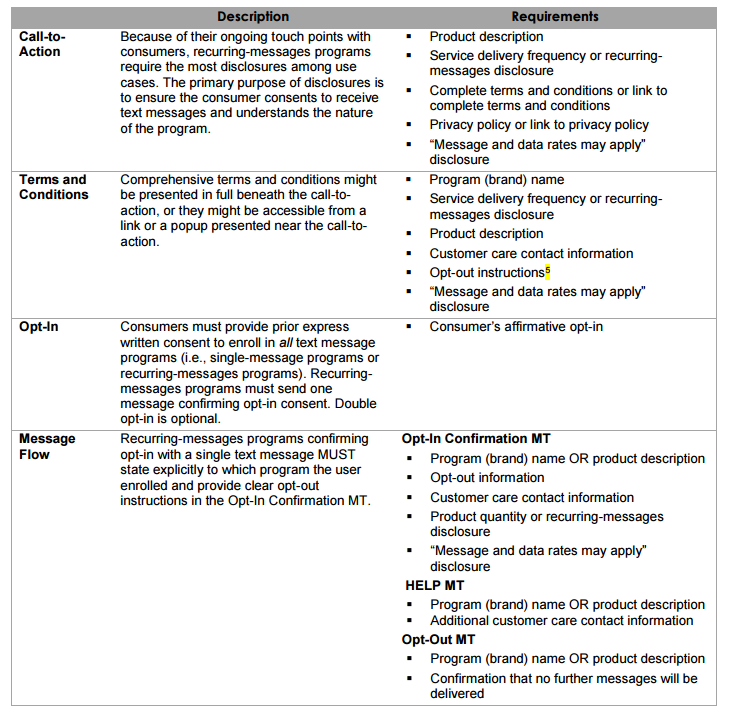 SAMPLE COMPLIANT RECURRING-MESSAGES PROGRAM